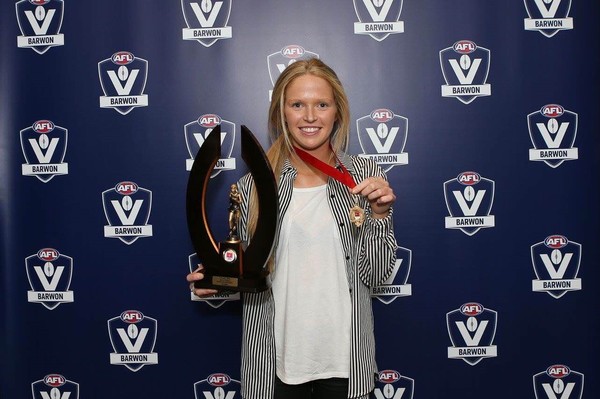 The Drysdale Football Netball club has announced its senior coaches for 2017.
The A Grade side will be jointly coached by Hannah Kennedy and Georgia Berry.
They fill the role vacated by the experienced Leah Wilson, who has stepped down due to family commitments. Leah will still be a familiar face around the club, however, providing a mentoring role to Hannah and Georgia who she has both previously coached.
Hannah is a product of the Drysdale junior program and played in multiple A Grade premierships before moving to GFL club Leopold. The mid-courter is also a regular with Geelong Cougars playing in the Victorian Netball League. Hannah returned to Drysdale last season, following coach Leah Wilson from Leopold, and was appointed A Grade captain. She had an outstanding season and was a contributing factor to the Hawks' rise up the ladder, winning the club and league best-and-fairest awards. Aside from her netball skills, Hannah brings experience in strength and conditioning having recently completed her studies as a PE teacher.
Georgia also joined the club from Leopold in 2016; however she did not take the court due to a major injury. Following surgery last June, she is set to commence playing by mid-season, and is expected to once again be a dominant force alternating between goals and defence. Georgia commenced her career playing for her home town of Colac in the GFL, and represented Victoria at junior level. Prior to her injury she was also a key player for Yarra Ariels in the VNL.
Drysdale Football Netball Club is one of the area's oldest netball clubs participating since 1974 in the Bellarine Football Netball league. The club has a rich history within the local league and a strong sense of community.
Following a three-peat of premierships from 2008-10 the club dropped away as players retired, finishing ninth in 2015.
The appointment of past player Leah Wilson as coach in 2016 heralded the return of former players plus new recruits which saw the club rise to fourth position and
once again compete in finals.
With a new president in Alison Dumbell, and fresh faces on committee the club is looking to continue its improvement in 2017.