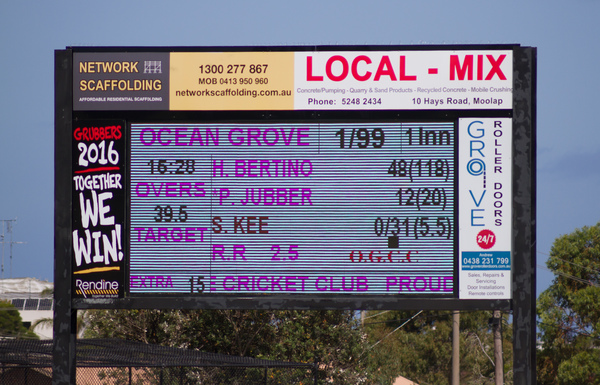 Drysdale B Grade looks likely to snatch a last-gasp finals spot as an outright victory is looming against Barrabool.
In the final round, Drysdale finds itself seven points adrift of Jan Juc and nine points behind Portarlington and needed a maximum of 10 points for an outright victory against the struggling Bulls.
Drysdale batted first and had outright points in its sight from the first ball. The Hawks declared their innings closed at 7/229 off 47 overs.
Barrabool then capitulated to be all out for 48 in 25 overs with David Sykes taking seven wickets and Jimmy Willis three.
With the six point already in their grasp, the Hawks will be able to force the follow-on next weekend and have 75 overs to claim outright points and a finals spot.
Portarlington has a bye and won't gain any points from this round.
If Jan Juc can beat Barwon Heads, it will finish in third position.
The Sharks made 196 and Barwon Heads is 0/10 in reply.
If the Sharks lose and Drysdale wins outright, Drysdale will jump to third on the ladder and Port will hold on to fourth spot and a finals spot.
If Drysdale wins outright and Jan Juc holds off Barwon Heads, Port will slip out of the four.
In C Grade, neither Drysdale or Portarlington will contest finals.
In D Grade, Drysdale finished in second spot on the ladder and will face a qualifying final against Collendina 2.
Portarlington missed the finals by half a game.
Drysdale defeated sixth placed Newcomb on the weekend after making just 124 with Michael Keay (43) and Jason Bourke (34) the mainstays.
Newcomb was rolled for 68 with the wickets shared around.