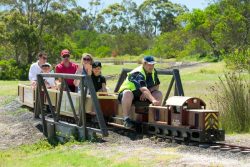 Looking for something to do during the school holidays?
The Portarlington Bayside Miniature Railway could be an option. Situated within the grounds of the Portarlington Bayside Family Park, trains run at frequent intervals and costs just $4 a ride. The train ride takes about 10 minutes and kids under two travel free.
The railway is open on the first and third Sunday of the month from May to September with special services (5 to 11 July, from 11am to 3pm) during the school holidays.
Further details can be obtained from the railway at P.O. Box 419, Portarlington, 3223, or from Kerry at 0476 124 598.