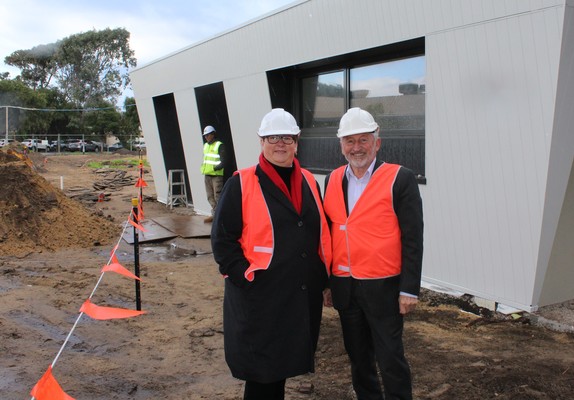 Borough of Queenscliffe deputy mayor Susan Salter has been given a sneak peek at the new dental wing at the Queenscliff Community Health Centre at Point Lonsdale.
Retiring CEO John Fendyk took the deputy mayor on a tour ahead of the official opening of the new facility later this month.
"It's really exciting to see how close we are to opening the new building," Mr Fendyk said.
"Now we are so close to finishing this stage of the project, it's great to be able to show representatives of the local community what a wonderful facility we are going to have on the Bellarine."
The fit out and finishing touches will be completed on the new wing in the coming weeks, ahead of a scheduled opening in mid August.
The building will house Bellarine Community Health's relocated dental and physiotherapy services as part of Stage One of the redevelopment of the Community Health Centre.
The renovation has allowed for sterilisation facilities to be located in the same building as dental services and the larger spaces and extra room can accommodate expanded services.
The existing dental and physiotherapy equipment will be relocated to the new building in the coming weeks. BCH Dental services will be suspended for a short time to allow for the transfer of equipment. Clients affected by the temporary closure are being notified.
The $5.85 million redevelopment of the Queenscliff Community Health Centre at Point Lonsdale is being jointly funded through a $3.04 million contribution from the Australian Government and a capital allocation of $2.85 million from Bellarine Community Health.
Stage two of the redevelopment will involve the demolition of the existing dental building and the first phase of construction of new car parking for the site.
This stage also includes construction of the new client entrance and reception areas, which are being reoriented from their current location.
The redevelopment will transform the Queenscliff Community Health Centre into a modern, flexible health care facility that provides improved access for clients to both community allied health and dental services and the medical practice.