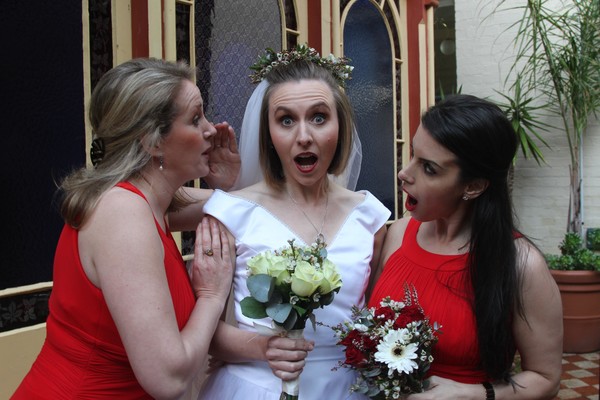 Colleen Bacon wants her daughter Meg's wedding to be perfect, unlike the disappointment of her own, but with mismatched shoes, ribbons the wrong width, name cards folded incorrectly, and too many vegetarians on the guest list, Colleen is not impressed with the way the celebration is coming together.
If that wasn't bad enough, bridesmaid Lucy is keeping a scandalous secret, which if it comes out has the potential to ruin Meg's big day, or even worse Colleen's.
Will the secret end Meg and Lucy's friendship? Should matron of honour Angela let the cat out of the bag? Will bringing another bridesmaid into the mix have disastrous consequences? What exactly is Meg's beloved James hiding? And will Colleen have a nervous breakdown if the big day isn't all she hoped it would be?
The answers to all these questions and more are contained in Queenscliffe Lighthouse Theatre Group's production of Elizabeth Coleman's hilarious play Secret Bridesmaids' Business.
Directed by renowned Geelong theatre identity Debbie Fraser, Secret Bridesmaids' Business opens at Queenscliff Uniting Church on Friday 11 August and runs through to Saturday August 19.
"It twists and turns," Fraser said.
"There is one last thing that happens at the end that will give people an 'o wow' moment."
The theatre group welcomes a host of new local talent, including Caity Ellett as bride Meg, Bernadette Byrne as bridesmaid Lucy, Georgyia Tino as matron of honour Angela, Andrew Percy as groom James, and Lauren Nicholls as friend Naomi, as well as familiar faces Melinda Hughes as mother of the bride Colleen, and Nicole Hickman as the hotel housemaid.
Elizabeth Coleman's wonderful characters bring this seriously funny play to life.
Never far from reality, it exposes the insanity that can be created as the wedding juggernaut threatens to swerve out of control. Marriage may be a wonderful thing, but after a night like this, well, could it really be worth it?
Ellett is a Geelong girl and Fraser said she couldn't be happier with the cast and the venue.
"The cast is fabulous, I'm really thrilled," she said.
"It's a strong cast. We've kept the play set in 1999 and haven't tried to modernise it. Our reaction to certain things now would be much different to what it was more than 15 years. Our values have changed over the years. We used the venue last year for our production of Calendar Girls and it's an intimate space to work in and it seats around 130 people."
Tickets for Secret Bridesmaids' Business are available online at qltg.org.au or can be purchased in person from the Queenscliff Visitor Information Centre at 55 Hesse Street, Queenscliff.
Tickets are $30 for adults and $25 concession.