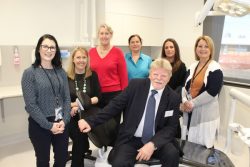 Community members have been given a tour of the finished first stage of Bellarine Community Health's major renovations at the Queenscliff Community Health Centre site at Point Lonsdale.
A community event attended by representatives of the Borough of Queenscliffe, local community associations, Dental Health Services Victoria and adjacent residents was held to mark the occasion.
The newly renovated and extended health centre wing houses the health service's relocated dental services along with allied health services including podiatry, physiotherapy and dietetics.
"It was wonderful to throw open the doors to the new wing and allow members of our community to have a sneak peak," new health service CEO Shane Dawson said.
"This is a major upgrade to our ageing facilities and finishing stage one of the project is a great milestone."
Attendees at the event heard that the expansion of the dental rooms will allow the health service to look at new models of dental care.
"The renovation means we can continue to provide quality emergency and general dental treatment, but it also allows us to focus more on oral health promotion and prevention," health service board chairwoman Hazel Ingram said.
As part of the health service's commitment to improving health literacy on the Bellarine and helping the community understand and act on health information, an oral health educator will focus on positive oral health outcomes for clients.
The renovation has also allowed for the integration of the dental sterilisation facilities within the dental clinic, which aligns the health service with the National Dental Standards and provides best practice operations.
The second stage of the Queenscliff Community Health Centre redevelopment is already underway with preliminary demolition works being done on the disused dental wing and sterilisation area.
Stage two will include re-orientating the existing entrance to the medical centre and community health centre to the southern side of the building, construction of new car parking and new entrance and exits to the site.