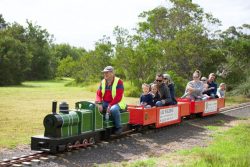 Portarlington Miniature Railway is open for business.
The ongoing re-development at the Point Richards Precinct being carried out by Bellarine Bayside has advanced enough to allow the railway to recommence passenger services starting this weekend.
Previously, there was no public access to the site and the railway did not operate during August.
The railway will re-open on Sunday 3 September and every Sunday thereafter from 11am to 4pm.
"This project commenced on 17 July and involved the complete re-development of the boat ramp car park and facilities adjoining the miniature railway area," railway secretary Brian Coleman said.
"When finally completed around mid-September, access to the railway will be by a dedicated foreshore access road with adjacent car parking and picnic facilities nearby. As it is also Father's Day this Sunday, better bring dad down to the railway with the great news that dads will ride free all day. Now that's not going to break the family budget. Let's get everyone outside in the sun and have some playtime."
The railway is a popular family attraction in the bayside town of Portarlington.
It winds its way from Point Richards station through parklands and first operated in 1999. It is the Geelong region's only 7.25-inch and 5-inch miniature railway and Australia's only railway located on a foreshore.
It's a true vintage railway station with a signal box with an undercover platform, which seats up to 70 guests.
Mr Coleman thanked all the volunteers who will forgo their own Father's Day to run the trains.
"They are priceless. Keep the fingers crossed for lovely weather," he said.
The miniature railway is situated within the grounds of the Portarlington Bayside Family Park, corner Point Richards and Boat roads, Portarlington.