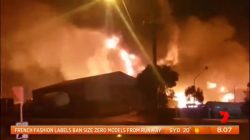 Six fuel tankers were destroyed in a massive fire that sent gas cylinders exploding into nearby properties last night in Drysdale.
The fire started in a shed full of gas cylinders behind Mortimer Petroleum on High Street, just before 1am this morning.
The CFA said the fuel tankers were carrying diesel and unleaded petrol, and some of it leaked onto the ground and caught fire, making the situation worse.
Firefighters were able to contain the blaze within a few hours after 47 nearby residents from 30 homes were evacuated.
Petrol tankers at the site also reportedly 'melted' in the blaze.
Drysdale CFA captain Brendan MacDonald said the cause of the fire was unknown.
"It's been extremely difficult (to put out) with the amount of gas cylinders on the premises," he told Channel 7's Sunrise.
"We had to evacuate nearby residents due to the exploding cylinders that were exploding up into the air."
An emergency relief centre has opened at the Springdale Community Centre (phone 5253 1960).
The City of Greater Geelong activated its Municipal Emergency Management Plan and offered displaced people a warm safe place to sleep, as well as a hot breakfast at Springdale.
All had left by 8.15am, but the City will keep the centre open until noon and then re-assess.
People from Portarlington and St Leonards were able to hear the explosions.
Firefighters are expected to remain at the scene for most of the day.
Nobody was injured.
Video: Monique Brewster, Facebook