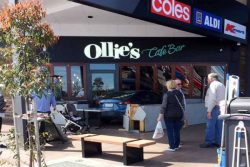 A car veered in to a Leopold cafe's sitting area on Tuesday 3 October after the driver lost control of the vehicle.
The car came to a halt just outside the shopfront, about 1.40pm.
Emergency crews were called to the Gateway Plaza at Leopold, but nobody was injured during the incident, although the driver was in shock.
It is still unclear what caused the driver to lose control of the vehicle.