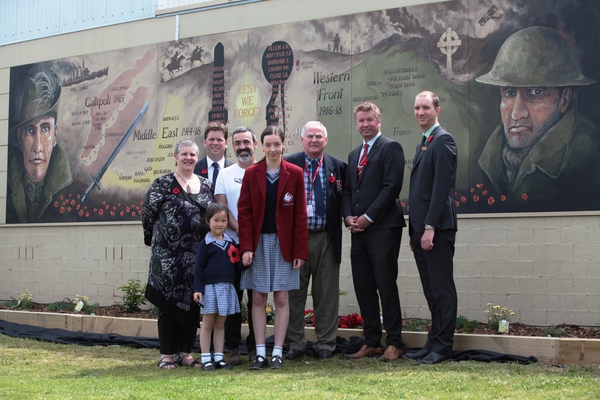 Christian College Bellarine Campus has received funding to install a mural on the college grounds that will honour the veterans from the local region who served in WWI.
The grant was made possible through the ANZAC Centenary Community Grant Program, Saluting Their Service Commemorations Program and Drysdale RSL.
A commemorative Remembrance Service was held on 10 November to unveil the incredible mural, created by artist, Andrew Plant.
Andrew was commissioned to create the artwork which will be a central focal point for not only the Christian College Bellarine Campus' annual Anzac Day and Remembrance services, but as a daily opportunity for this community to remember.
Andrew is both an artist and an author who has written and illustrated several children's books. His picture story book 'The Poppy' was inspired by his time spent on the battlefields of France. He is a gifted artist who is passionate about Australia's military history and ensuring the younger generations are aware of the sacrifices made by those who made the supreme sacrifice.
Head of the Bellarine Campus Nicholas Watson said the mural was created through the shared vision of humanities teachers Angela Tutty and Ryan Healy to see the students who pass through the Bellarine Campus develop a rich sense of appreciation of the sacrifice made by Australian men and women who have served their country in times of conflict. In particular, the men and women of the Bellarine who have paid the ultimate sacrifice.