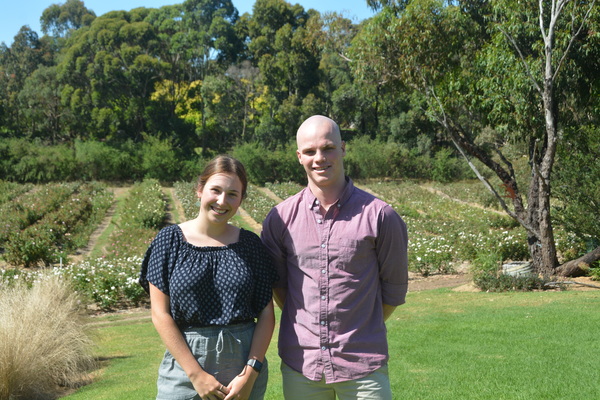 By Justin Flynn
Harry Stannard and Ellie Down are passionate about bridging the gap between rural and metropolitan schools.
Both aged 20, the duo have been nominated for a Victorian Government Group Achievement in the Community Award, which recognises young people who have worked together as a group to provide a service, program or project for other young people, which is based on consultation and engagement with young people and has resulted in positive, youth-led changes in a local community.
Over the past four years a group of more than 60 participants in the Macpherson Smith Rural Foundation (MSRF) 'Young Rural Leaders Program' have developed a workshop for rural students in Years 5 or 6 called Dream Seeds. The Dream Seeds team is a group of MSRF Alumni committed to capacity building and building aspiration, resilience and connections in younger rural Victorians.
The group of presenters are from all over Victoria, aged between 19 and 22 years old. Harry and Ellie are coordinating the program, voluntarily, in between university studies.
The organisation has been built by young people, for young people. The aim of the workshop is to engage Year 6 students to build their capacity to be leaders of their own life.
Harry, who lives in Drysdale on his parents' rose farm, is studying a bachelor of science at Melbourne University, and Ellie is studying to become a teacher at Latrobe University in Bendigo. They donate hours of their time each week for the cause and find that giving presentations at schools in rural Victoria is a rewarding experience.
"I felt really empowered at the start and we could see the difference it was making in schools," Harry said.
"Feedback has been overwhelmingly positive and I've been proud to be involved in it."
"I'm training to be a teacher and I love kids and it's rewarding and satisfying and the kids are so engaged in the activities," Ellie said.
Statistics show that a far greater percentage of metropolitan students finish VCE compared to their rural counterparts.
Harry and Ellie are heading to the Mallee for their next round of talks and are hoping the award, if successful, and the subsequent grant that comes with it, can fund costs associated with travel and accommodation.