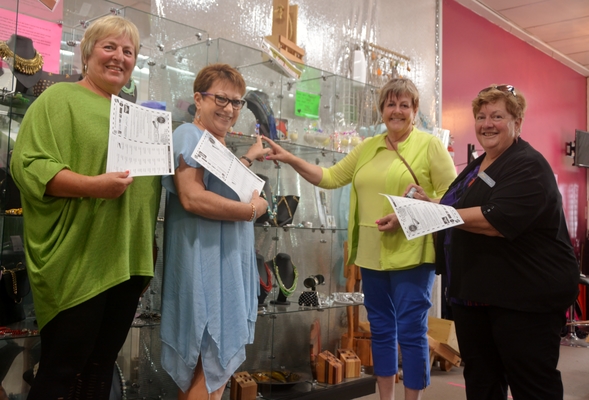 By Justin Flynn
Treasure hunters have been busy searching shops of the northern Bellarine as the annual Festival of Glass got underway recently.
The festival's popular treasure hunt sends people on a journey through businesses in Portarlington, Drysdale, Clifton Springs and Curlewis in search of items that can be stamped off on a map. If you get 10 items, you can enter the main draw which is announced at Festival of Glass expo on 18 February.
The treasure hunt has more than 150 prizes, worth more than $4000 and so far has attracted plenty of interest from all age groups.
"The kids get a real buzz out of it," Portarlington's Montana's Fashion and Accessories owner Sandi Hillman said.
"You can have a lot of fun with the kids while they're doing it, saying 'hot', 'hotter', 'colder', 'cold' as they search for the treasure. It's a whole lot of fun."
Treasure Hunt coordinator Diane Schofield said the event benefits everyone.
"There's been great excitement all round," she said.
"We see it as a four-way win for everyone – the businesses get more customers, the artists get recognition, the festival itself gets publicity and the public is in the running to win great prizes."
The treasure hunt is in its third year while the festival will enter its eighth year.
"There's been a lot of excitement about it from the first day," Ms Schofield said.
"A lot of grandmothers are taking their grandkids around hunting for the treasure. We've got people coming to us now asking to be involved rather than us chasing them. We're hoping it continues to grow and grow."
While the treasure hunt is officially part of the Festival of Glass, the actual festival weekend will kick off with Twilight Flames at Leura Park Estate on Saturday 17 February with Venetian glass master Mauro Vianello showcasing his skills from 7pm to 9.30pm.
The expo is on Sunday 18 February in Drysdale with more than 40 glass artists, awards, exhibitions and classes and workshops.